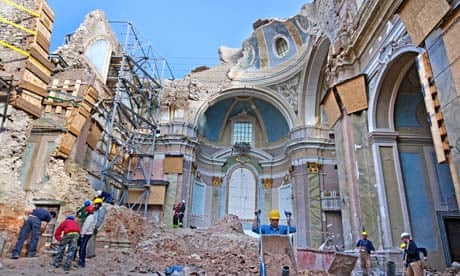 The previous major earthquake in Italy was the one that centred on the medieval town of L'Aquila and its surroundings in 2009. Yesterday The World at One interviewed Maria Spenati (spelling!) whose house in historic L'Aquila was demolished ready for reconstruction only at the end of last year, over six years since the quake. 'The reconstruction of the churches was first', she told the programme.
Now, checking this bald statement is somewhat beyond my means, and, were it to be true, finding out why this was the case, who took the decisions over what to rebuild first, even further beyond them. But let us take it as agreed.
Doesn't sound right, does it?
There are reasons you can think of for prioritising the reconstruction of churches after a disaster. Historic buildings are the property of everyone, and the restoration of beauty and the signs of order is not a negligible matter to a community. Where a locality derives a significant proportion of its income from tourists who come to look at those buildings, too, it might want to make sure they are up and attracting them again as soon as possible. But, but, but.
I love churches, particularly the one I look after, which isn't even especially old or architecturally distinguished ('George Gilbert Scott', ours is, in name, though I doubt the great man did much more than cast an approving eye over the sketch done by one of his juniors). In a couple of days' time I will do another post including some nice pictures of a nearby church interior which is thoroughly splendid. A devoted church building is a space dedicated to God: it represents in stone his promises, his presence. It is itself a sacrament. It is a good thing to have. But, in the Prayer Book's phrase, 'necessary to salvation' it is not. Christians can, should they have to, go elsewhere and take the Sacraments of the Kingdom with them. In some circumstances it might even do them a lot of good to do so.
'The churches were reconstructed first' when seven years later homes still lie in ruins, just doesn't sound good, however you spin it. It's not putting God first. It's prioritising something else, though without more information I'd hesitate to guess what it might be.