I haven't booked my main holiday this year which is a bit late. I would
like
to spend a week in a Landmark as I have before. I love the Landmark Trust and its policy of buying ruinous but quirky properties and doing them up as holiday lets, but ... well. I've enjoyed them in the past. I've stayed in four:
First was St Winifred's Well in 2007, tiny, quaint and atmospheric with an actual holy well underneath it. I really liked it.
The Ruin near Ripon, where I stayed in 2008, was wonderful, a bizarre and delightful folly perched on an escarpment.
Next was The Abbey Gatehouse in Tewkesbury: that was a bit of a mistake as it seemed secluded but was in fact in the middle of a busyish small town.
Finally there was Ty Capel at Rhiwddolion in 2011, which took a little bit of getting used to but was lovely in the end.
Last year I wanted to stay in Derbyshire, but Swarkestone Pavilion was booked - and I'm not sure about its location anyway as it seems uncomfortably close to a major road. That was what led me to stay for a week in The Fairy Cottage in Edale. It was nice to have a full week there rather than the four nights afforded by Landmarks, and the building was very pleasing, but some of the furnishings would have disgraced a student bedsit. At least with Landmarks you're assured of cleanliness, a high standard of furnishing, and that you will not be assaulted by aesthetic nightmares such as are often perpetrated by owners arranging properties for rental by the General Public.
The trouble is, much as I love Landmark and its ideals, its properties are becoming eye-wateringly expensive. There's no point forking out a lot for something less than ideal, and my general requirements are small size, secluded location, and odd character. That means the following are really the candidates, and here are the costs for a four-night stay in my preferred autumn slot, arranged in ascending level of pain. Prepare yourselves.
The Chapel, Lettaford, Devon: £325. It's the cheapest, but then it's the smallest and least interesting.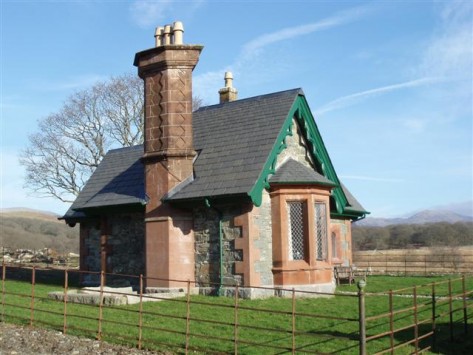 Glenmalloch Lodge, Dumfries: £369. Not too pricey, but the real investment is having to get to southwest Scotland to stay there.
Lynch Lodge, Peterborough: £391. Dr Bones has stayed here, and I called by for one night having gone to our former curate's induction as Rector of four parishes in mid-Norfolk. Nice, but it's not really very secluded as it's round the back of a farmyard. And the area is pretty built-up.
Whiteford Temple, Cornwall: £407.
Swarkestone Pavilion, near Derby: £429. Has the issues specified above. One runs the risk of forking out a lot of money and being kept awake by the road noise.
Queen Anne's Summerhouse, near Bedford: £431. This is nice, and I don't know Bedfordshire at all. But we're already more than £100 a night now.
The Chateau, Gate Burton, Lincolnshire: about £450. Very pretty, and again Lincolnshire is an unknown quantity to me. After two holidays in rugged Wales and the Peaks I quite fancy somewhere flatter. But it's not cheap ...
Houghton West Lodge, near Hunstanton: £461. Not the most special of houses; I'd have to be very sure I wanted to spend a week in west Norfolk.
The Bath House, near Stratford upon Avon: £474. I would
love
to go to the Bath House as the bottom storey is a faux-Roman bathing pool decorated with great blocks of tufa stone and the whole thing is the most insane sort of Georgian folly.
Robin Hood's Hut, Taunton: £521. You will notice how, now that we are reaching the very nicest and weirdest buildings, the pain barrier is becoming insistent. This is a fantastic folly, but even so.
The Prospect Tower, Faversham: £631. It's gorgeous. It's Gothick. It's much too much.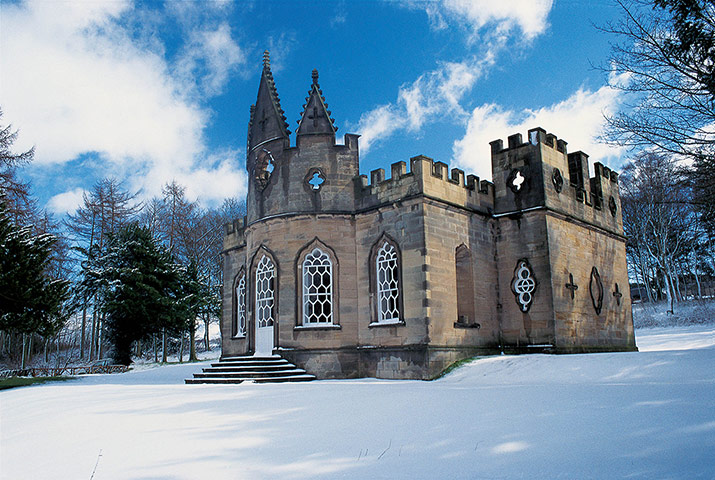 The Banqueting House, near Newcastle: £646. Oh, you can stop now.
And the last insult, from my native Dorset, a building which has haunted my imagination since I was small and we used to go to Kimmeridge Bay and were able, in those far-off days, to go right up to it and peep through the broken windows: the Clavell Tower. It isn't even available until 2014, then only for a sprinkling of extremely unhelpful dates, and when it is it's likely to cost well over £700 for a four-night stay.
I could always go back to St Winifred's.